Other
The vacuum pipe recycling system for garbage, bedding and clothing is an important building block of the intelligent hospital logistics. By setting up the intelligent input orifice and the closed-end management and adopting the vacuum negative pressure technology, it achieves the automatic transmission and collection of non-medical garbage such as domestic garbage and bedding and clothing.
The system is committed to avoiding the problems of cross-infection and secondary pollution in the recycling processes of hospital traditional garbage and bedding and clothing to eliminate potential health hazards, improve treatment efficiency, and solve high labor costs and poor management procedures, etc. It is an important infrastructure for building modern green hospitals.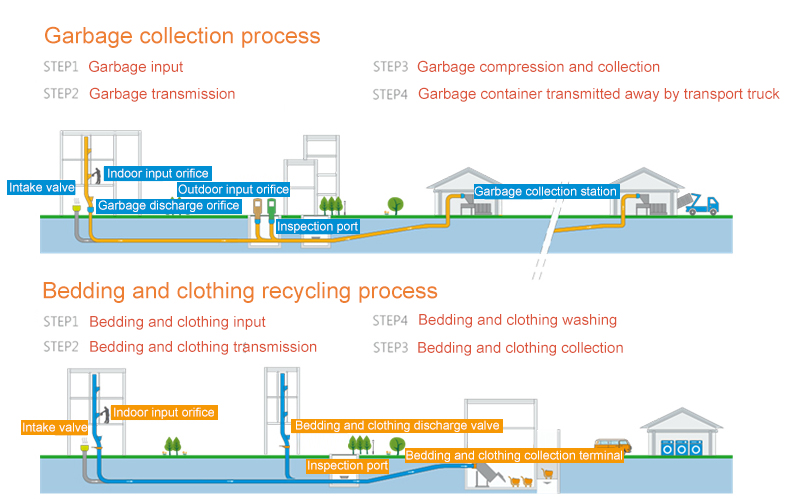 A true fully enclosed and fully automatic system

A system alone meets the needs of the whole hospital

Help implement garbage sorting

Multiple security for new upgrading

"Zero" congestion

Low energy consumption and easy maintenance
Safety and environmental protection

Closed transmission in the whole process to avoid cross-infection and effectively eliminate secondary pollution. Disinfection and deodorization at regular intervals helps air purification.

Durability and anti-corrosion

Durable and anti-corrosive with a service life of more than 10 years.

Economization on manpower

The recycling process is fully automated without demand for manual intervention, significantly improving efficiency over traditional methods, and greatly reducing labor costs.

Improvement of management

Complete recycling solutions to improve overall management, optimize processes, and help build modern green hospitals.

Beautification of environment

The system does not occupy the public area for hospital garbage, and avoids the damage to the environment caused by the accumulation of garbage in the hospital.
Application department:

Inpatient department, ward

Types of collection item:

Domestic garbage, waste from medical work, contaminated clothing and bedding